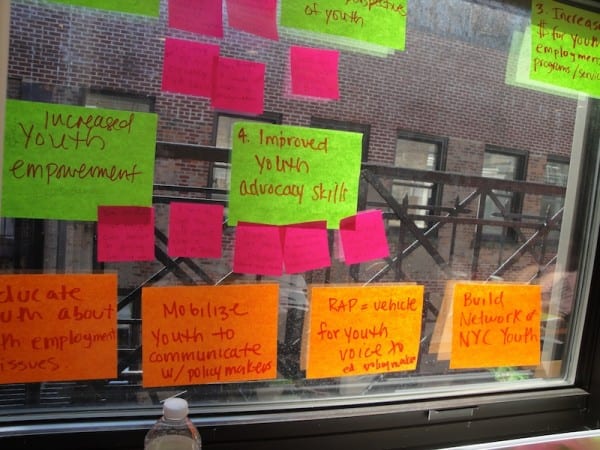 Last week three AEC collaborators facilitated a 1.5 day workshop for the Capacity Builders Collective (a collective of New York area foundation including Cricket Island Foundation, Daphne Foundation, New York Foundation, and North Star Fund). The Evaluate for Change workshop was a great opportunity to work with community organizing, youth organizing, and social change groups from across the New York metropolitan area. We created a curriculum (link to our stuff) for the day that started with helping groups think about their Theory of Action – that is, their change strategy – and how their work contributes to change in their communities. We had groups collaborate on what that change would look like, identify how they would go about measuring it and collecting date, as well as how to think about putting their findings into use!
Some of our other ongoing projects include:
A formative program evaluation for the youth development and technology organization MOUSE Inc.
Working with the Mexico City based organization PODER providing technical assistance and monitoring for new grantees of the Kellogg Foundation's Latin America and Caribbean office.
We'll be posting more updates on our work in the coming weeks.